home / nieuws / archief_2011
Michaek keeps the Scottish flag flyingMichael keeps te Scottish flag flying
17-04-2013 - 11:10
---
The 29th of January 2011 was a special day in the UK rabbit calendar. Not only was it the United Kingdom's 2011 Premier Rabbit Show at Harrogate, but more importantly Scotland's Michael McDermott took up his position behind the table to judge the Netherland Dwarfs.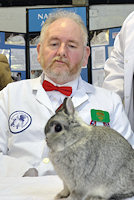 Michael accepted this prestigious judging engagement before his illness in February 2010. Michael has shown great courage in his long road to recovery and vowed to honour his acceptance to judge the premier show. Breeders supported Michael with a super entry of 130 dwarfs. Well done Michael, "keep the Scottish flag flying".
29 januari 2011 was een speciale dag op de kalender van het konijnen minnend Verenigd Koninkrijk. Niet alleen was in het Verenigd Koninkrijk de Premier Rabbit Show 2011 in Harrogate, maar belangrijker nog, De Schot Michael McDermott nam zijn positie achter de keurtafel in om de Polen- en Kleurdwergen te beoordelen.
Michael heeft de uitnodiging voor deze prestigieuze keuring aanvaard voor zijn ziekte in februari 2010. Michael heeft grote moed getoond in de lange weg van zijn herstel en was vastbesloten om zijn toezegging om te keuren op de Premier Show na te komen. Fokkers steunden Michael met een super inschrijving van 130 dwergen. Goed gedaan Michael, "keep the Scottish flag flying".